Borgata Hotel, Casino & Spa is now one of the more popular online & land based casinos within New Jersey. This is mainly due to the fact that the casino games they offer are incredible. Boyd Gaming is one of the few developers available to be played at Borgata.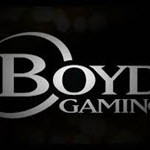 When Borgata licensed out this software it was expected that it would boost Boyd Gaming's operations, today it was revealed that their tie-in with Borgata has earned them $2.7 Million as of right now. It wasn't expected that this would be the amount earned within just the first two quarters upon the licensing agreement deal. When Boyd Gaming combined their efforts with Borgata they never expected that by combining both their companies it'd be so profitable in such a short period of time. Punters at the casino have become used to the quality of Boyd's video poker, table games and video slots which indicates that this move was in the best efforts.
Boyd Gaming currently owns half of the Borgata Hotel, Casino & Spa online casino. They service the entire state of New Jersey & are looking to expand to other states which also offer legalized online gambling. In the New Jersey online gambling market it is this online casino which holds the majority of the market. Those wishing to play this software have to be located within the boundaries of New Jersey. The hope is that one day online gambling will be legalized on a federal level and that Borgata will continue to reign supreme.