Adda52, an Indian based online poker website has revealed that it has launched an Android version of their poker website. This marks the first ever Android poker app to be released in the country of India. This'll give all Indian punters the opportunity to play video poker at any moment during the day in the palm of their hands.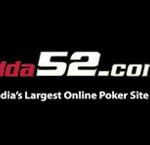 This new Android poker application will only be available in a cash game format. There will be an array of games including Sit & Go, Pot Limit Omaha, Texas Hold'em and Omaha Hi/Lo. This application is currently available in India for both Android smartphones and Android tablets.
The CEO at Adda52 Anuj Gupta commented on the release of this app stating, "It's proven that India is the fastest growing market for online gambling, mobile gambling won't be far off as mobile games are some of the most popular in the country. We intend to provide our users with the highest quality mobile gambling experience that can rival other mobile platforms around the globe. Indian poker enthusiasts shall get everything they want and more out of the titles we provide to them."
It seems that Adda52 is highly confident in their abilities to provide an excelling gambling experience. This could be the start of a brand new gambling industry that has never before been seen in this part of Asia. Those located in India whom wish to experience mobile poker can download this application today via the Android App store on either your mobile phone or tablet.