Dan Flett, a local resident in New Westminster was able to have his life forever changed as he was able to win the jackpot for the "Set for Life" Scratch ticket. He bought the ticket because it randomly got his attention, good thing it did as it allowed for him to win a total of $675,000.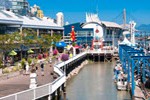 Mr. Flett drove home after he purchased the ticket where he then played the ticket. During which he found 3 cash symbols which allowed for him to win the jackpot. He had to look several times at the ticket to be sure that his eyes weren't playing tricking him. He instantly called his closest friend to tell him that he won the big money, his family already being home with him.
Mr. Flett then called the BCLC to let them know that he had won the jackpot. When the representative answered the phone they don't Mr. Flett that there are only nine winners left for this ticket, he responded to the representative that there are only nine winners left for this scratch card.
Dan decided to take the full amount as a lump sum and is currently figuring our interest options for his large win. Dan also noted during an interview that he plans to go to Las Vegas for the first time and splurge on the one dollar slot machines they offer. Congratulations are in order for Dan Flett, may he enjoy the money he has won to his fullest abilities.