Caribbean Stud is a video poker casino game offered at Bodog. It has provided massive progressive jackpot wins to their punters for years now. The games design looks just like a real poker table and makes you feel as if you are at a real land based casino playing Caribbean Stud with your friends. One lucky player has been able to trigger the progressive jackpot on this casino game once again. This fortunate punter was able to win $115,508 while playing this casino game. This is the second largest jackpot to be won through this video poker title.
Caribbean Stud is developed by RealTime Gaming, Neither RTG nor Bodog have released any information regarding who has triggered this jackpot and what they plan to do with their new found riches. What we do know is that this jackpot falls below the largest amount won through this slot by $23,000. Regardless congratulations are in order for this winning punter.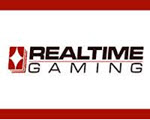 You can experience Caribbean Stud by signing up a player account with any online casino which offers players the Real Time Gaming Platform. Once register with one of these casinos you will be required to use a valid payment method and deposit money into your player account. Once completed you will finally be able to experience one of the best video poker casino games available in the online gambling market.
There has been rumors that Caribbean Stud could be making its way to RTG's mobile platform. We'll inform you of any information regarding this rumor or the player who took this progressive jackpot.